***this material is best viewed on a mobile device***


@jacobfrankeljd2029:
Hey.

So I've been talking a little bit more with Jeremy. He's got this way about him, y'know, this charisma that makes it harder to keep things from him. I mentioned that I've been in contact with the server, but not anything else. He misses you guys, and laughed that the state of things has, as he said, "Left it looking like a cult with me as the head. Could you imagine?"

What a guy, huh? He said to tell you all hello.

"Jail sucks" is another direct quote, but they feed him and his cellmates are on for similar non-physically-scary offenses. We think.

I found his Bible. As I told you, I'm a Jew, so while we may not see eye-to-eye on religion, the foundation is the same. (And I'm not sure if he's Catholic or Protestant.) But that's not what matters right now. There's a few sections which he has completely blacked out. By what's around them I can tell what they are. Here is a list and description of the verses:


Proverbs 30:32-33 "If you have been foolish, exalting yourself, or if you have been devising evil, put your hand on your mouth. For pressing milk produces curds, pressing the nose produces blood, and pressing anger produces strife."
Genesis 1:27, but only the first line: "So God created man in His own image."
2 Samuel 13:15b-23 in its entirety
Jude 7: "And the angels who did not stay within their own position of authority, but left their proper dwelling, he has kept in eternal chains under gloomy darkness until the judgement of the great day—"
Then the entirety of the book of John of Patmos' Revelation is torn out.
He seems like an intelligent soul, firm but not unkind. He does not strike me as someone physically aggressive. But his notes in the margins suggest to me that he may be more complex—and dangerous—than I estimated. Perhaps this is how David Kaczynski felt.

—Jacob Frankel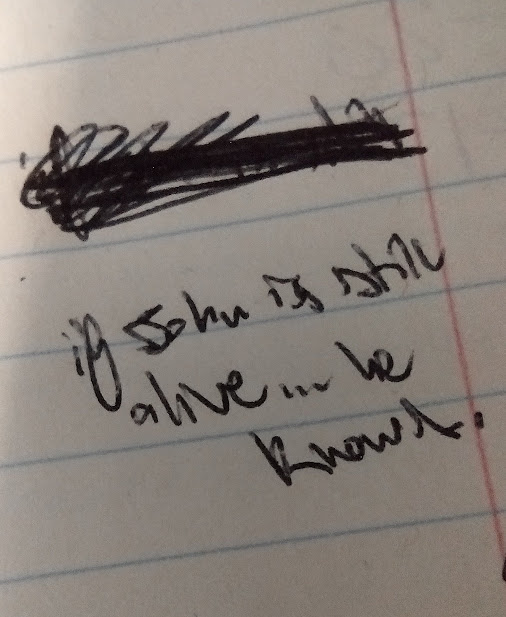 "if John is still alive...he knows." What?